Compliance Basic Policy
By achieving thoroughgoing commitment to "compliance with domestic and international laws, our articles of incorporation, internal regulations and corporate ethics" (Compliance) and through open and fair corporate activities, we aim to be a company that international society relies on.
Standards for Employee Behavior
Structure for Promoting Compliance Program
Bolstering Compliance Activities
Management in the Supply Chain
Standards for Employee Behavior
The IBIDEN Group has established the "Standards for Employee Behavior" based on the Compliance Basic Policy and the IBIDEN Group Charter of Behavior as standards for each member of the Company, including officers and employees, to practice compliance sincerely.
The IBIDEN Group adopted the "IBIDEN Standards for Employee Behavior" in December 1998 and the Compliance Promotion Regulations in August 2003, to facilitate its compliance activities. We continue to increase awareness of compliance, adopting a management approach that seeks to earn the trust and respect of all stakeholders.
The contents of the Standards for Employee Behavior are reviewed and revised as required every year based on compliance with the laws and regulations of each country and meeting the expectations and requests of stakeholders in global business development. Furthermore, we reflect revisions to the standards in in-house compliance promotion structures and education to raise the compliance level of the Company and each of its members.
Structure for Promoting Compliance Program
Compliance promotion activities are conducted by the Manager of the Department in Charge of Compliance Promotion nominated by the Managing Officer in charge, and reported to the Compliance Company-Wide Promotional Committee (Secretariat: Department in Charge of Compliance Promotion; frequency of holding the committee meeting: At least once a year) which is led by the President & CEO as chair.
The committee reports and reviews activities that include the group-wide compliance promotion, supervision and the number of consultations and analytical results of whistleblowing system.
Compliance-related policies and plans decided by the committee are communicated to each plant and domestic and overseas group companies, which in turn rolls out individual actions in accordance with them. All group companies both in Japan and abroad have set up their own compliance organizations mandated to formulate and conduct individual actions.
The Managing Officer in charge of compliance promotion reports on the state of the compliance activities to the Board of Directors once a year, and receives confirmation and supervision of the effectiveness of an activity program as a whole that include the Standards for Employee Behavior by the Board of Directors.
【Flow Chart of Compliance Promotion】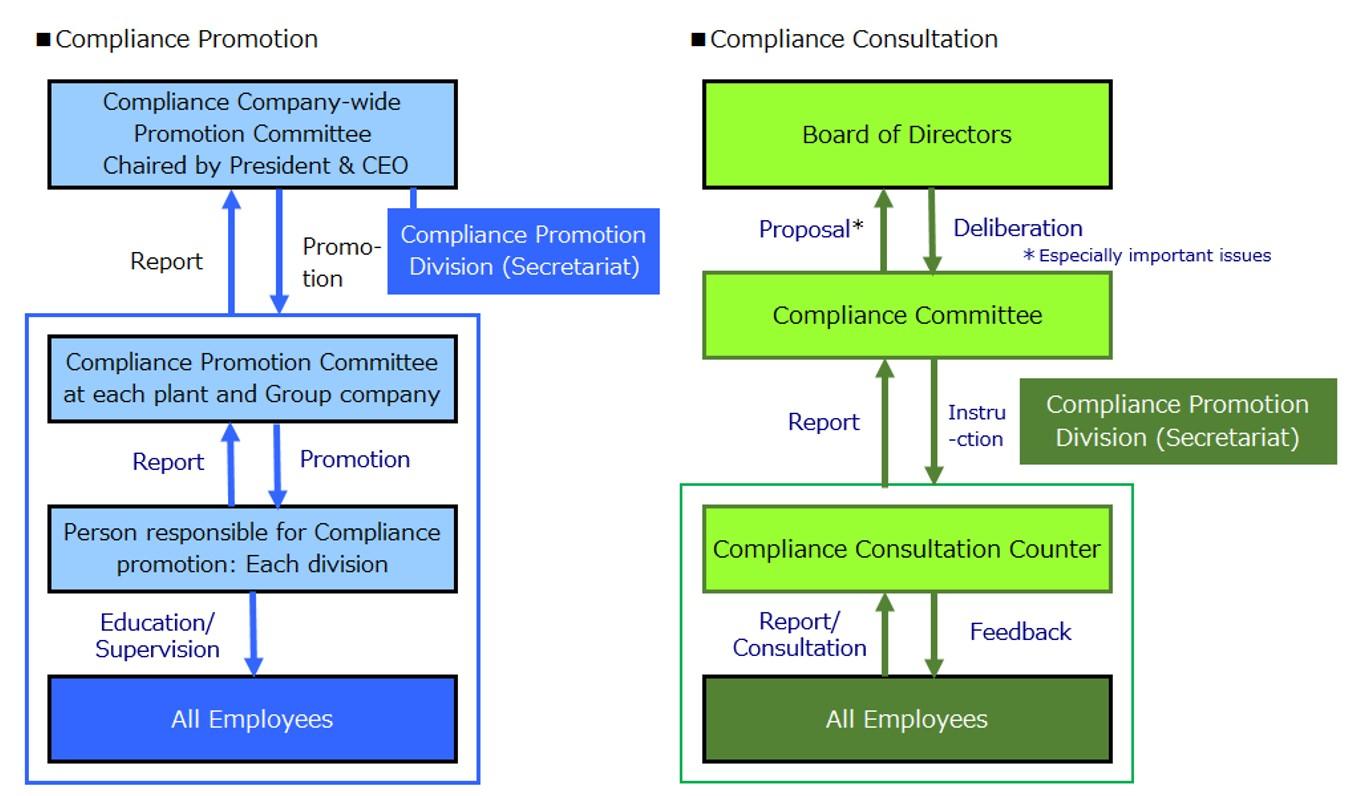 Bolstering Compliance Activities
(1) Compliance Education
When promoting compliance activities, it is crucial that employee awareness is continuously maintained at a high level. The Company has been building educational system for employees to regularly receive training by job grade, in which the programs start immediately after hiring.
In addition to education based on the Standards for Employee Behavior, we are promoting special education programs, including ones focused on various laws and regulations and corporate taxation. At overseas bases, which employ many immigrant workers, training is provided on educational training such as the Standards for Employee Behavior in workers'native language so that they can fully understand the contents of the training.
To deepen the understanding of the details of the Standards for Employee Behavior, we have issued Case Examples for Enlightenment (Case Book), which introduces cases of violation of the Standards and points to remember for compliance, reading them through the workplace to raise employees'awareness of compliance.
(2) Efforts for Fraud Prevention including Anti-bribery
The Group upholds the IBIDEN Group Charter of Behavior to make efforts to prevent every form of corruption. In the Standards for Employee Behavior also, we demand ethical behavior and strictly prohibit unlawful actions and acts of conflict of interest including bribery. The IBIDEN Group's businesses do not have many direct dealings with government or municipal offices, so the overall risk of being charged with misconduct is not high according to the results of assessments of corruption risk at each site. However, we have appropriately developed a system for ensuring a certain prevention of corruption in line with the current conditions of each site, such as stricter authority when paying social expenses, establishment of the Gift-giving and -receiving Guidelines, and development of the Whistleblowing System.
Also, we have promoted an effort for early detection and correction of fraud through such means as internal audits that use data. In fiscal 2018, there was no instance of legal violation with a significant influence on our business activities, such as the imposition of fines for malpractice.
(3) Whistleblowing System
In addition to the formal channel of reporting, the Group has established a compliance consultation service to facilitate reporting when an officer or employee*1 discovers a violation of compliance.
Through this service, officers and employees may report violations nominally to employees in charge of the compliance consultation service or anonymously to outside experts.
Also, domestic and overseas companies of IBIDEN Group have respectively established and operated consultation counters unique to each company. The consultation counters have been operated with due consideration for the protection of rights of whistleblowers, such as privacy protection and ensuring no disadvantageous treatment.
To create an environment where employees feel comfortable consulting, we endeavor to make the service known to everyone by distributing cards which describe how to use the service, putting up posters, and training for officers and employees.
Our company and major domestic Group companies receive approximately 30 cases of consultation*2 annually among which the majority of consultation cases relate to labor management and harassment.Should an incident related to compliance occur, the Compliance Committee chaired by an executive officer is called and discussions take place on appropriate actions to address the situation as well as preventative measures for future incidents. Serious incidents in particular are reported to the Board of Directors.
*1:Compliance consultation service is available to all those working at on-site workplaces.
*2:The number includes consultations which overlap several categories and consultations of matters which cannot be confirmed as facts
(4) Self-Check of Activities and Awareness Survey
We conduct a self-check on the status of compliance with the Standards for Employee Behavior and a survey on compliance awareness each year, covering all employees including those of domestic Group companies. In the self-check, all employees, including those holding managerial posts, diagnose the state of compliance with items of the Standards for Employee Behavior, and compliance-related challenges at each Group company or plant are clarified by summarizing the results of the diagnosis.
Any problem identified in this process is addressed through remedial activities at Group companies and plants in the following fiscal year. We link little understood topics with educational programs. For instance, case studies illustrating compliance-related issues that many test-takers failed to answer correctly are published to increase their understanding.
In the awareness survey, we evaluate and analyze the degree of employee satisfaction with their workplace and superiors and compliance violation risk items from various aspects.
(5) System and Achievement of Legal Compliance
Compliance with laws and regulations is a fundamental requirement for corporate compliance activities, and the latest information on laws and regulations is required all the time. At the Company, based on the Compliance Regulations, divisions in charge such as the Legal sections, Human resource sections and Environment & Safety sections, list laws and regulations that affect the Company and monitor the status of their revision or abolition. They also notifies related divisions of each law and regulation of any revision or promulgation and, when any action is required, checks the results of such action.
In particular, we designate laws and regulations that have a significant impact on the IBIDEN Group as the "most important laws and regulations".
We exercise management and thoroughly implement measures to prevent legal violation by clarification of compliance rules, training to keep everyone informed, regular review of the status of compliance and audits.
(6) IBIDEN Tax Policy
Setting its basic principle as business activities that comply with laws and regulations, our company shall contribute to society through proper payment of taxes, and shall strive to maximize our corporate value by optimizing tax costs.
Management in the Supply Chain
To earn the trust of international community while operating business globally, both the Group and the entire supply chain must responsibly take actions.
Our Group's major businesses are currently positioned in the midstream of the supply chain. We believe that promotion of their activities together with suppliers in the upper stream will lead to the sustainable development of the whole supply chain.
IBIDEN Group Supplier CSR Guidelines
IBIDEN disclosed requests to suppliers based on its basic purchasing policies in 2008, and unveiled "the IBIDEN Group Green Procurement Guidelines" in 2009 as a system for green procurement, designed to procure parts and materials that feature reduced environment impact.
In addition, IBIDEN published "the IBIDEN Group Supplier CSR Guidelines" in 2011. These guidelines provide our suppliers with requests by our customers, the industry and the international community and items that should be managed by the Group. The items are divided into subcategories according to themes such as labor, health and safety, environmental protection, ethics and fair business practices.
Communication and Cooperation with Supplier
We have released CSR guidelines on our company website.
In addition, we hold briefing sessions for our major suppliers to share specific challenges to be addressed. In addition, we conduct CSR surveys and CSR-related site visits and audits for suppliers to check the actual situation of suppliers and promote improvements.
We ask new suppliers to pledge to comply with the CSR Guidelines, and check the status of efforts such as labor, environment, safety and ethics of suppliers using the CSR survey described below before commencing business transactions.

We carry out annual CSR surveys of material suppliers, process contractors, on-site contractors, and worker dispatching companies, taking into account risks involving the contents, value, and importance of transactions. (covering suppliers whose aggregate transactions were more than 90% of the total amount of transactions).In fiscal year 2018 we conducted a CSR survey on about 250 suppliers, and those revealed that the average rate of compliance of material suppliers concerning items for which we have particularly requested compliance was about 97%.If material suppliers have items for which they have not sufficiently conducted compliance activities, we request them to submit an improvement plan and ask them to improve their activities. As an example, in the case where material suppliers ask a new employee to submit his/her health certificate at the time of employment, we request that these suppliers eliminate the procedure as it may lead to discrimination.
For especially important suppliers, we have confirmed and improved the actual efforts by directly visiting the actual sites. In fiscal year 2018, we performed audits on 11 material suppliers. We did not find, in the results of surveys and audits carried out in fiscal 2018, any material infringement that would lead to a violation of the rights of employees.
IBIDEN Suppliers' Compliance Counter
We set up a compliance counter for our suppliers to which suppliers can report any compliance problem while dealing with the Company. As with the compliance counter for our internal employees, information will be handled with the utmost care for privacy and the supplier will never suffer prejudicial treatment for contacting the counter.
We continued to make the IBIDEN Compliance Counter for business partners known to all suppliers. As a result, the rate of recognition of the Compliance Counter among suppliers is improving, and the number of consultations is increasing, although at a low level. We will continue working to make the Compliance Counter known to every supplier at briefing sessions for suppliers toward achieving early detection and resolution of issues.
Responsible Sourcing of Resources (Conflict Minerals)
Illegal mining of resources in conflict areas and high-risk areas has become a major international issue as it abets human rights violations and environmental destruction. The Group is very concerned about the issue of responsible sourcing of conflict minerals (tin, tantalum, tungsten and gold) and is addressing the situation with a sense of social responsibility toward the products it offers.
 
Our "CSR Guidelines" clearly state that the suppliers should refrain from illegal mining in conflict areas as well as procuring resources that may support human rights violations. The Company tries its best to avoid contributing to illegal operations and human rights violations by not utilizing minerals illegally mined in conflict areas. Furthermore, we will conduct reasonable investigations into the mineral supply routes and disclose the findings in good faith.
Procedure for Supply Chain Control (Conflict Minerals)
Responding to the issue of conflict minerals is carried out mainly by the division in charge of promotion of compliance in cooperation with the division in charge of purchasing. The division in charge of promotion of compliance consolidates information collected by the division in charge of purchasing, confirms and analyzes the content and compiles the status of use of conflict materials by the Company. The business administrative division accepts inquiries from the outside and provides information after obtaining approval of the manager of the division in charge of promotion of compliance.
 
The Company has been sharing with its suppliers the issues involving conflict minerals as well as the Company's approach during a briefing session. We also conduct supplier surveys to verify their supply routes, including the identification of smelters and refiners. We also conduct supplier surveys to verify their supply routes including the identification of smelters and refiners. Furthermore, we conduct sequential visits at some of our suppliers' facilities and other related refining companies to explain the extent of the effort as well as verify the supply routes and their traceability (history of materials, parts, and process).The Company uses Conflict Mineral Reporting Template of the RMI* in its investigations into subject material supply routes, and asks suppliers that use subject minerals to update their data on a regular basis.
*RMI(Responsible Mineral Initiative):An international organization with over 350 member companies and organizations that promotes procurement of responsibly sourced minerals.
Actual Situation of the Supply Chains (Conflict Minerals)
Although the products that IBIDEN supplies from its Ceramics and other businesses do not contain conflict minerals, some of its IC Package Substrates and printed circuit boards from its electronics business contain tin and gold.
In fiscal year 2018, we conducted annual due diligence surveys on suppliers which used conflict minerals continually and verified all smelters from which minerals supplied by our suppliers were derived. Tin was mainly derived from smelters in Southeast Asia, while gold was derived from ores coming from refineries of mainly Japanese recycling manufacturers. The conflict minerals we used have been verified, by a third-party organization, to be derived from smelters/refiners that are compliant with the Conflict Minerals Free Program of RMI or another equivalent program(as of June 2019).

The Company can thus declare that no evidence has been found that the minerals we use are derived from mines that play a part in conflicts in the Democratic Republic of the Congo and conflict zones surrounding it. We will continuously implement risk management to avoid sourcing minerals from mines that play a part in conflict and human rights violations within our supply chain by updating information on the supply chain on a regular basis and promoting the use of certified smelters.