Corporate Governance
Basic Approach to Corporate Governance
Our Group (hereinafter collectively termed "the Group") considers corporate governance to be a key management mechanism for transparent, fair, prompt and resolute decision-making, and all Group companies are thus actively committed to improving corporate governance. As part of the Group's corporate governance, we are enhancing internal control by proactively undertaking activities to advance compliance and risk management. Furthermore, we are expanding/strengthening the management oversight functions of the Board of Directors and the audit functions of our Audit and Supervisory Committee. These steps will enable us to construct a transparent corporate governance system worthy of the trust of shareholders and other stakeholders and fulfill our corporate social responsibilities, and will help us improve our corporate value through sustained growth.
Following a resolution at the 164th Ordinary General Meeting of Shareholders held on June 16, 2017 on the transition to a company with an Audit and Supervisory Committee, the Company will further improve its prompt decision-making structure. An additional layer of strength will be added to the supervisory functions of the Board of Director by giving Directors who are Audit and Supervisory Committee Members voting rights on the Board of Directors.
Overview of Current Corporate Governance System
General Description of Governance Structure
To ensure fair and transparent company management, 6 outside directors attend Board of Directors meetings and there provide advice on company management. Fair and transparent procedures are also applied to nominate these outside directors and to determine their compensation. In addition, an executive officer system has been introduced to permit rapid management decision-making and quicker execution of operations. The Audit and Supervisory Committee and Committee members have also been given robust check-and-balance functions to help them monitor decision-making by the Board of Directors and the execution of operations by representative directors.
Items pertaining to outside directors
The company has taken the steps necessary to ensure that 6 outside directors are assigned and permitted to provide needed insights on the agenda and deliberations of Board of Directors meetings so that they can contribute to appropriate corporate governance at the company and offer advice on our standards of conduct.
Efforts to strengthen the functions of corporate auditors
Audit and Supervisory Committee members attend Board of Directors meetings and other important meetings and audit directors' performance of their professional duties, and full-time Audit and Supervisory Committee members collaborate with the Audit Group, the company's internal audit organization, and with accounting auditors in conducting audits of the company and our Group companies in accordance with all applicable laws, regulations and rules. The presence of 3 outside Audit and Supervisory Committee members with a considerable level of knowledge in financial, accounting matters, and the law suitably ensures that the above functions are performed.
Relationships with stakeholders and timely disclosure
Aware of its mission to increase corporate value and meet shareholder expectations, the Group understands that it must fulfill its responsibilities with respect to employees, local residents, local communities, business partners, investors, and other non-shareholding stakeholders.
Based on the Disclosure Rules help shareholders understand the Group and to facilitate proper assessments of the Group, we disclose in a fair, timely, and appropriate manner with the decision of the Disclosure Committee, consisting chiefly of the president and the information disclosure officer.
The Corporate Governance System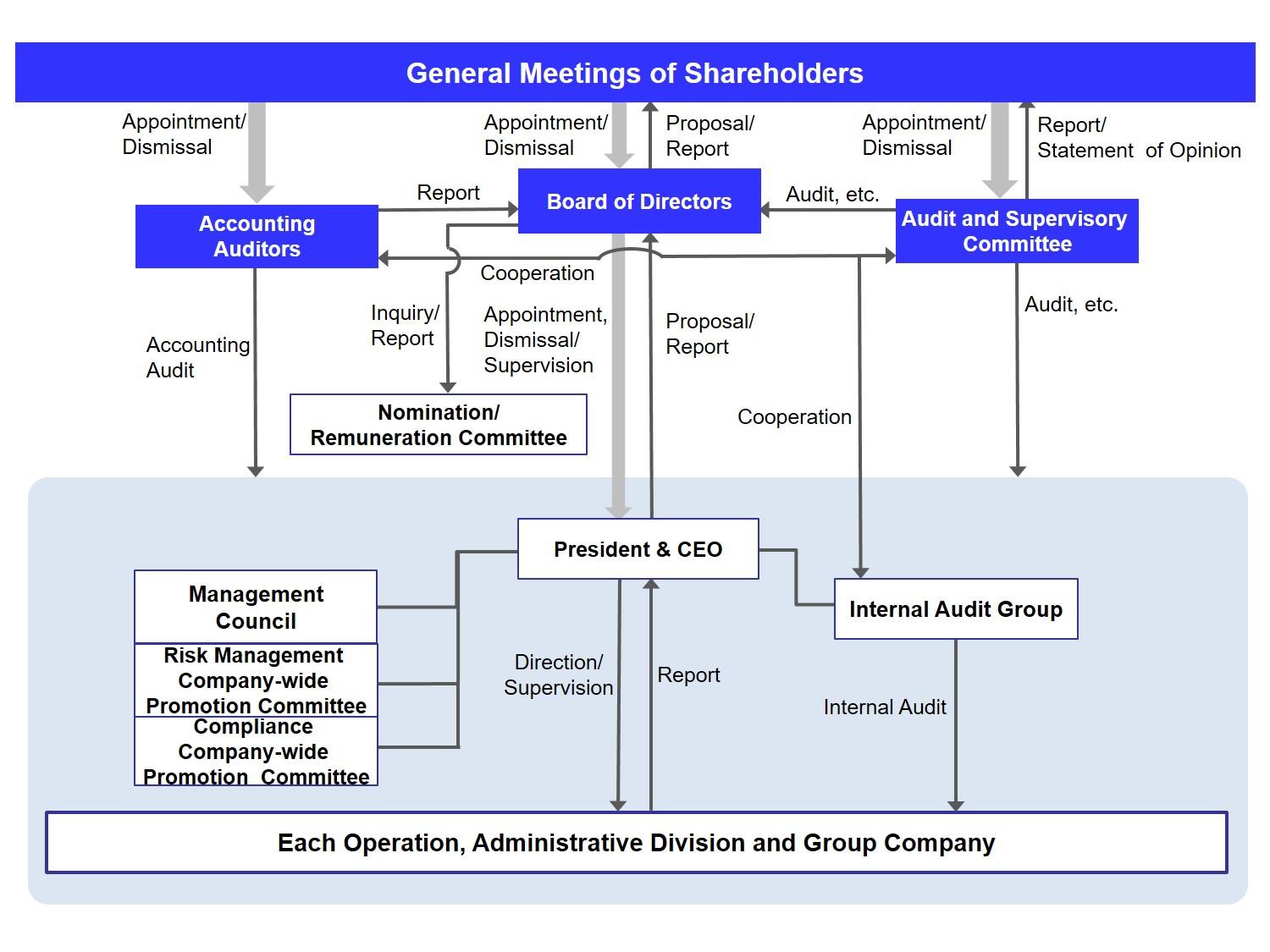 Corporate Governance Report filed with Tokyo Stock Exchange