Risk Management
Risk Management Basic Approach
The IBIDEN Group enables business continuity by analyzing various risks surrounding management, accurately handling losses of business resources that have a great negative impact on the ease of our business operations, ensuring the safety of our shareholders, customers and officers, and reducing and preventing losses of business resources.
Action Plan
We devote efforts to maintaining the safety and health of employees and business partners and to conserving operating resources.
We conduct ourselves so as not to impinge upon the safety, health, or profits of our shareholders, customers, and local and international society.
In cases where risk is manifested, we work to achieve prompt response and recovery through responsible action.
We reflect social demands related to risk in our risk management.
We provide required information in order to avoid or reduce possible damage caused by misunderstanding and a lack of understanding.
Structure for Advancing Risk Management
Based on the resolution of the Board of Directors, the Group has established "Risk Management Regulations" to create a risk management structure and its management process. We also created the "Risk Management Company-wide Promotional Committee", which is tasked with improving risk management. The Committee is responsible for considering and deciding on general risk management issues. It also examines and reports the progress of actions to address major risks.
Advancing Risk Management
Based on its basic policy and Risk Management Regulations, the Group is actively developing risk management promotion activities by, for example, setting up a department responsible for each risk category, strengthening the accountability structure, and offering seminars and workshops geared toward officers and employees. The managing officer of Risk Management conducts these risk-management promotion activities and reports to the Risk Management Company-Wide Promotion Committee (Administration: Risk Management sections) headed by the president and CEO.
The managing officer of Risk Management reports the risk management activity status to the Board of Directors once a year, and receives the Board of Directors' supervision as well as its confirmation of the effectiveness of the activity programs as a whole.
Should the internal audit or other mechanisms discover business actions that may create risk of loss, the managing officer of the Risk Management is immediately tasked to understand the details of the said risk as well as the scope of its potential loss. He then gives instructions on swift and systematic measures and attempts to prevent the loss from occurring. Furthermore, in case of a large-scale accident or a disaster, he immediately sets up the headquarters to thoroughly understand the situation, implement first responses, and prevent further loss to minimize the loss.
【Diagram of a system of advancing risk management】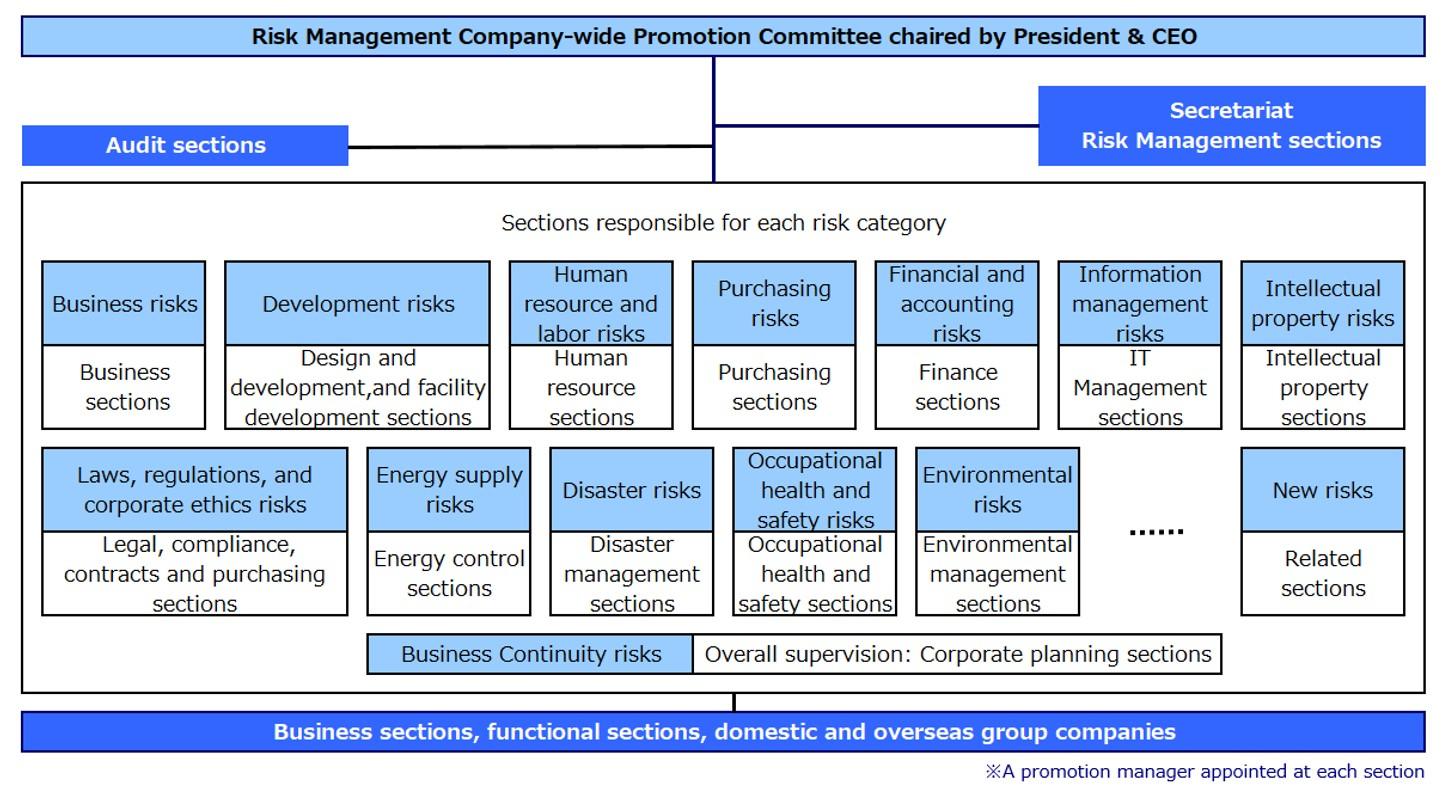 Risk Assessment and Addressing risks
The Group undertakes risk management activities so that we may continue to reliably conduct our business operations. We regularly detect and assess risks to reduce risks in important areas: operational divisions are working on the risks related to strengthening our business competitive edge, while functional divisions are addressing the risks bringing serious repercussions to the Company's business. These risk management activities are implemented in conjunction with the policy management of each Division.
Business Continuous Plan
Considering the occurrence of large-scale natural disasters, such as earthquakes or floods, in areas where our plants are located as an important risk theme, we are taking measures to prepare for the occurrence of such disasters. As for measures to be taken when disasters such as earthquakes occur, we believe that lifesaving comes first, followed by the early supply of products to customers. With regard to concrete risk themes in the event of a natural disaster, including confirmation of the safety of employees, supply of materials by suppliers, equipment failure and occurrence of utility problems, we are building a response system, mainly led by the divisions that cope with such risks.
Actually, based on a damage scenario assuming the occurrence of a Nankai Trough Megathrust Earthquake which may affect our plants and domestic affiliated companies, we have already advanced disaster mitigation measures, such as ceiling fall prevention, hazardous liquid medicine leak prevention, and equipment fall prevention.
Information Security Measures
Information concerning the operation, technologies and management of the Company is a valuable asset, and for a technology-development-oriented company like us, proper management of information including confidential information of customers and suppliers and prevention of leakage are important issues and responsibilities.
We have established a framework for information security promotion and stipulated fundamental rules to comply with in utilizing and maintaining information assets we own such as trade secrets, personal information and information technologies (IT) under the "Regulations for Information Management." To improve the protection and utilization of information of the entire IBIDEN Group, we have established the Information Security Committee, chaired by the director in charge of Strategic Corporate Planning Operations.
For the operation of information security, we have kept all employees well-informed through the IT Promotion Managers' Committee and compliance education.
As for personal information, we have established a personal information protection policy and stipulated procedures necessary for collection, management and utilization of personal information. Our personal information protection policy is available on our website.
Falsification of data, etc., has become a social problem. Against this background, the IBIDEN Group, in fiscal 2017, introduced a data integrity audit, and is working to prevent falsification and incorrect handling of data for provision to customers. In fiscal year 2018, there were no information leaks that could significantly affect our business activities.