Technology Development Concept
Technological Changes
Challenge to Develop New Technologies
Technology Development Concept
"Use core technology to manufacture products that are needed by society in the future"
With this underlying "DNA," IBIDEN has identified the needs of the global market and society and developed products for its customers.
Under the basic policy that corporate activities are underpinned by human resources, we will pass on the "DNA" and spirit of IBIDEN, which has a long history, to developers of the next generation and contribute to realizing a sustainable society with a broad perspective beyond technology.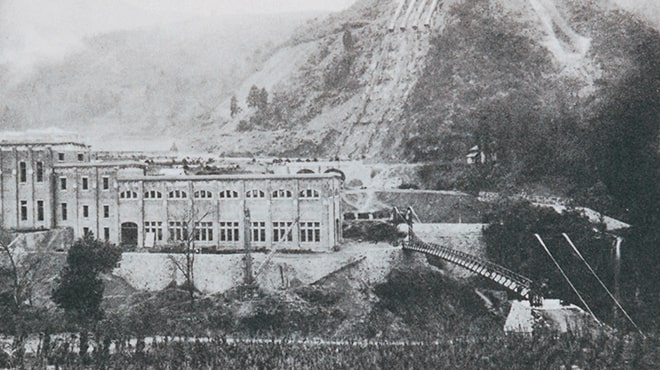 Founded as an Electric Power Business and Transformed into a Manufacturing Company
To revive the local economy by using the abundant waters of the Ibi River, we spent four years constructing a hydroelectric power plant in Nishiyokoyama at a time when there was no heavy equipment or paved roads. In addition to supplying electricity to the surrounding area, we entered the electric furnace business to effectively utilize the generated electricity. With this as a new beginning, we became a manufacturing company. During the postwar reconstruction period, we developed such products as carbides, ferroalloys, and melamine resins.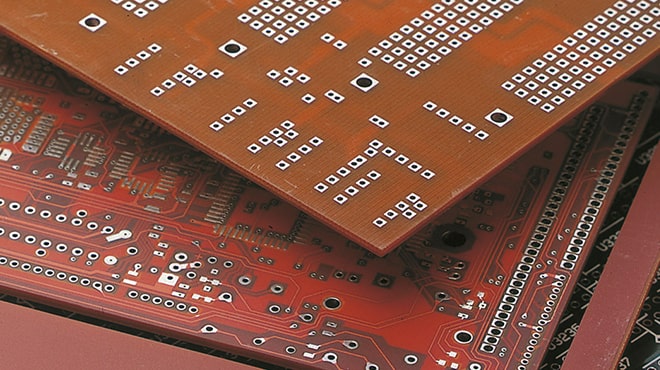 Making a Breakthrough with Three Priority Products after the Main Business (Construction Materials) was Hit Hard by the Oil Crisis
During Japan's high economic growth period, demand for housing construction expanded. In line with the changing times, we succeeded in developing "melamine decorative boards" using melamine resins. The construction materials business grew into our main business. However, this main business was hit hard by the 1973 oil crisis. With the company's survival at stake, the management team at that time decided to focus its managerial resources on three priority products (i.e., "printed wiring boards (PWBs)" which applied melamine decorative sheets, "special carbon products," and "ceramic fiber") and to strengthen the development of these products in order to overcome the crisis.
Achieving Significant Growth in the Electronics Business and Making a Fresh Start with a New Company Name
We entered the electronics business with the development of PWBs. In 1973, we developed a COB (Chip on Board), which allowed an IC chip to be mounted directly onto a PWB. Based on COB technology, we developed flip chip packages and proposed that they be used for semiconductors for PCs due to their superb electrical characteristics. The performance was highly evaluated by the largest semiconductor manufacturer in the world. Our electronics business grew significantly due to the widespread use of PCs and the Internet, catapulting IBIDEN into its position as a global company.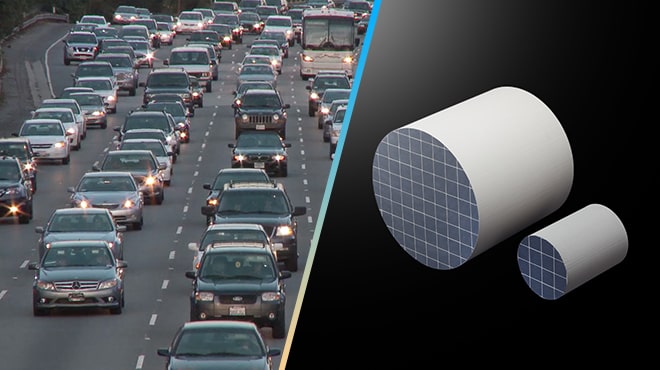 Ceramics Business Making Great Strides with Environmentally Friendly Products (DPFs)
While our society has become increasingly digitalized, environmental problems, such as global warming and ozone layer depletion, have become more serious than ever around the world. With the aim of cleaning the air around the world, we developed a DPF (a ceramic filter for removing soot contained in the emissions of diesel vehicles) by applying ceramic fiber technology. Initially, we faced a challenge in the treatment of soot accumulated in the DPF, but we succeeded in achieving practical application in cooperation with a European automaker. Subsequently, our DPFs were used by major global automakers. This became one of our main businesses following the electronics business.
Challenge to Develop New Technologies
As a technology development-oriented company, we have accumulated a great deal of knowledge, research results, and data, including technologies that have not yet been commercialized. We will introduce and utilize the latest DX technology to create new innovations in cooperation with partner companies and start-ups around the world and through industry-academia collaboration.
We remain committed to R&D to help solve social problems and meet the needs of our customers in anticipation of the next 10 years and beyond, and will contribute to the development of an affluent society by harnessing our innovative technologies.